All Types Of Exercise Foam Rollers
Trigger Point Grid Foam Rollers
With years of manufacturing experience on trigger point foam rollers, we have the capability and confidence to produce foam rollers in various types of trigger point grid. Foam Rollery also has many existing molds of trigger point foam rollers as available choices for customers. So you can save the cost on developing new injection molds for foam rollers.
Our trigger point foam rollers are made of qualified EVA foam material which is molded with various shapes of trigger point grid. The featured trigger point grids perform exactly like massage therapist's hand. They will provide users with long-term support to release tight muscles or trigger points. All trigger point grid foam rollers has been attached with hard inner pipe core that can offer reliable supporting for users to roll on it.
Our trigger point grid foam rollers can also be highly customized including custom Logo, colors, sizes, trigger point shapes and so much. This can deeply help enhance customers' branding. They are available in a wide range of standard color options such as black, blue, pink, red, orange, purple, gray and so on.
Features
Featured Trigger Point Grid Surface

Durable and Flexible EVA Foam Material

Rigid and Reliable Hallow Pipe Core

Wide Range of Color and Size Choices
High Firmness EPP Foam Rollers
Our high firmness EPP foam rollers have become more and more popular among customers. They are made by Expanded Polypropylene foam through our sophisticated molding and shaping technology. Our EPP foam rollers can be provided in both hard core version and hallow core version. As they are of high firmness, the EPP foam rollers is not easy to lose shape with long-term durability.
Foam Rollery EPP foam rollers are not only available in basic black color, also provide color options of blue, orange etc.. They can be custom made to be speckled foam rollers which is quite eye-catching for customers. Although we have our standard size of 12 inches, 18 inches and 36 inches for EPP foam rollers, they can also be manufactured in various custom sizes
Our EPP Foam Roller can be produced with any custom Logo. It can be embedded on the surface of foam rollers or printed on one side of EPP foam rollers. From us, you could get more exceptional services on foam rollers.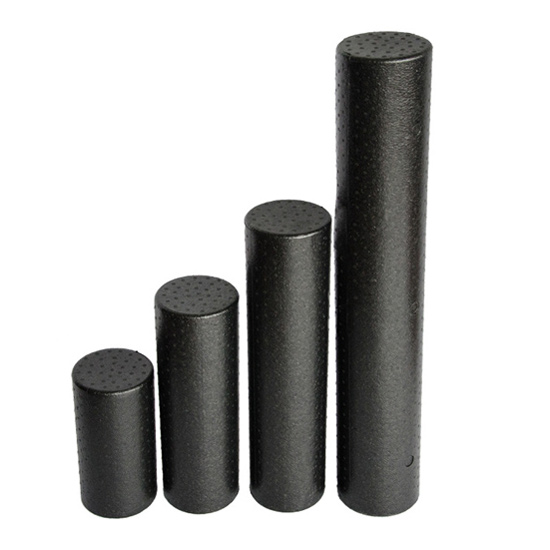 Features
High Firmness and Smooth Surface

Lightweight and Easy To Carry

Long-term Stability To Keep Shape

Available In Various Colors and Sizes
Solid Core EVA Foam Roller
Foam Rollery has the capability to deliver high quality solid core EVA foam roller. Made of durability EVA foam, they features solid core structure with anti-slip dotted surface. The EVA foam we utilized are of closed cell structure providing excellent waterproof and cushion performance.
Compared with hard core EPP foam rollers, solid core EVA foam rollers are of high density and are available in a wider range of firmness. They can be more flexibly customized. With the massage floating points all over it, they are a nice fit for Pilates/yoga trainers, and can help yoga practitioners to finish the balancing act. It also help users eliminate muscle tension, and strengthen the core muscle strength & flexibility,
EVA solid core foam rollers are available in a wide range of standard colors including blue, red, green, yellow etc.. The foam colors can also be custom made. Beside our standard size for them, we can also fulfill custom sizes for EVA solid core foam rollers. Do not forget your company Logo can be color printing on foam rollers.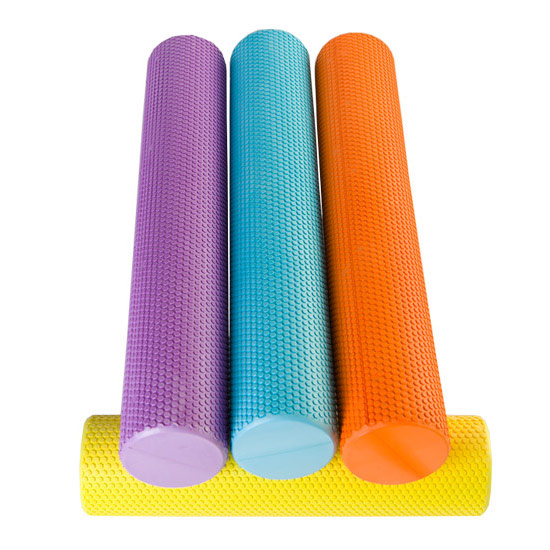 Features
Solid Core Design Structure

Featured Massage Floating Point Surface

Waterproof, Durability and Comfort

Available In Various Colors and Sizes
Custom Foam Roller Kits
In order to differentiate our customers' products from other competitors, Foam Rollery has the capability and experience to work with customer on many custom projects. We call this as custom foam roll kits which can be a lot set of things well-organized together concerning foam rollers.
Our custom foam roller kits are actually many individual set of foam rollers. The kits include hallow trigger point grid foam roller selling with solid foam core, hallow trigger point grid foam roller with storage end caps, foam rollers with carry bags packaging, larger foam roller selling with small foam roller and foam roller selling with massage stick and massage ball etc..
Custom foam roller kits can be quite flexible and potential. You could just let us know your idea, and our team can work with you till your custom foam roller kits are ready.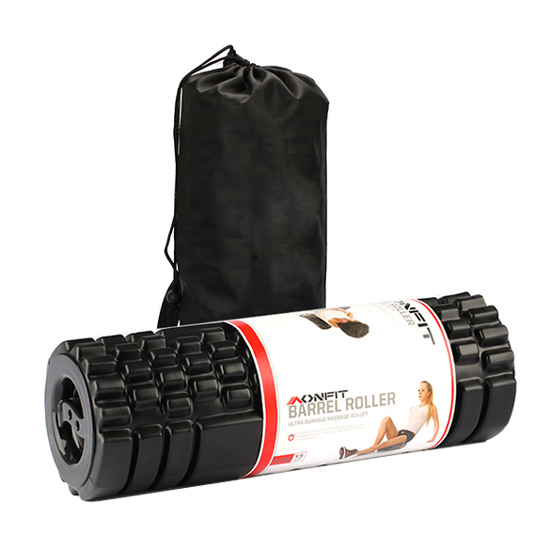 Features
Professional Private Label Services

Flexible and Personalized Solutions

Different and Versatile Kits With Your Logo
Get Your Wanted Foam Rollers With Us Today!